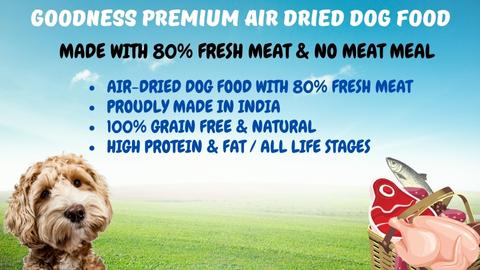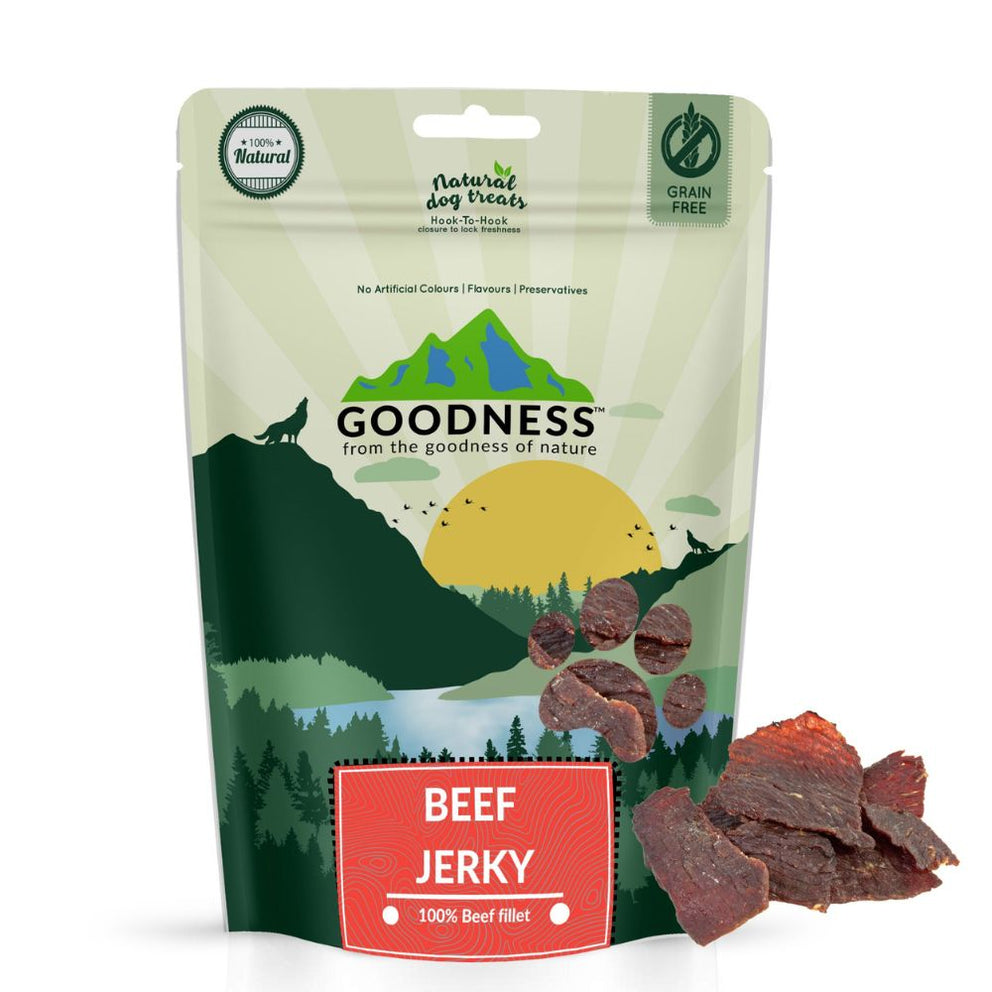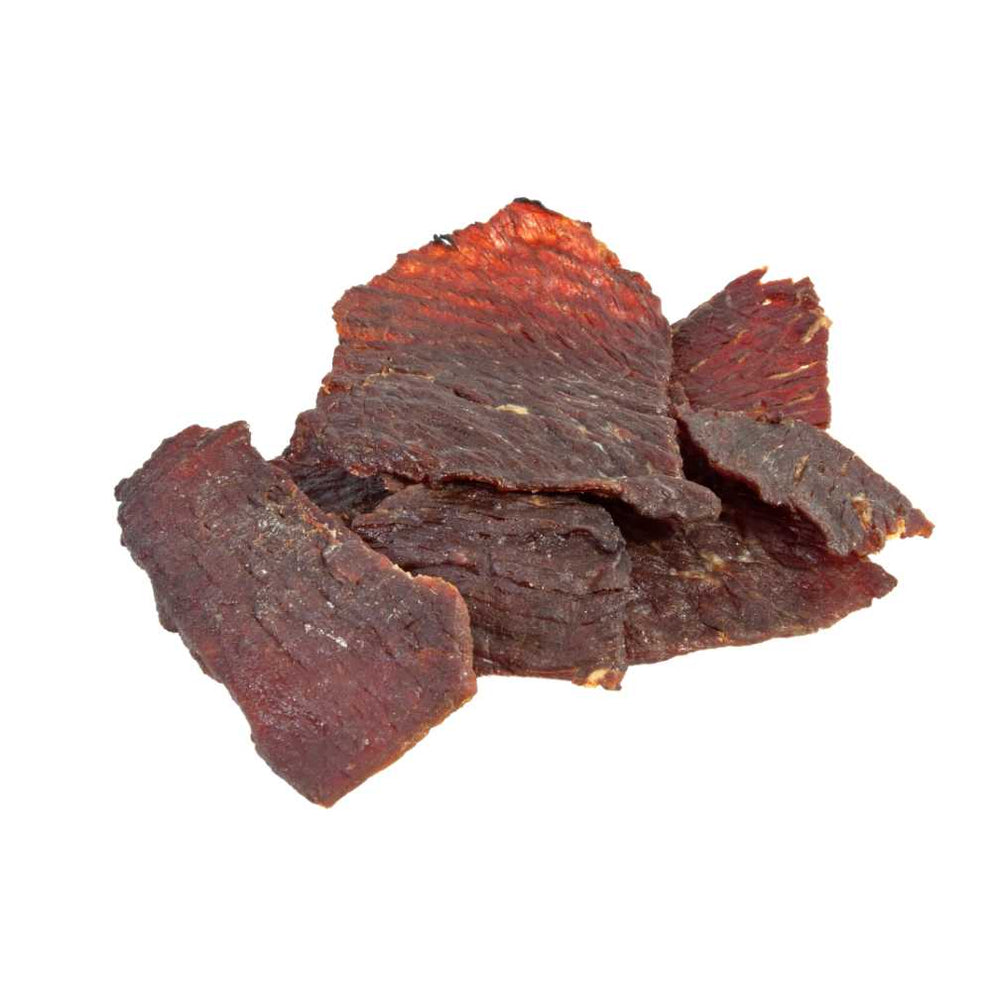 Goodness pet food
Beef Jerky Dog Treats
from

Rs. 349.00
Our Beef Jerky Dog Treat is gently air dried from 100% Beef fillet without the use of any artificial colours, flavours or preservatives.  Introducing Our Flavourful Beef Jerky Dog Treats! At Goodness pet food, we strive to provide the best treats for your beloved furry companion. Our beef jerky dog treats are crafted with care, offering a flavorful and satisfying snacking experience. Made from premium-quality beef fillet, they are carefully prepared to preserve the natural taste and provide a wholesome treat for your dog. Benefits of Beef Jerky Dog Treats: Here are a few benefits that are essential for your dogs: 1. Delicious and Nutritious: Our beef jerky treats are not only delicious but also packed with essential nutrients. Made from lean beef, they offer a high protein content that supports muscle growth and maintenance. Additionally, they provide vitamins and minerals that contribute to your dog's overall health and vitality. 2. Promotes Dental Health: The chewing action required to enjoy our beef jerky treats provides dental benefits for your dog. As they gnaw on the jerky, it helps remove plaque and tartar buildup, promoting good oral hygiene and reducing the risk of dental issues such as gum disease and bad breath. Treat your pup while taking care of their dental health. 3. Grain-Free and All-Natural: Understanding that dogs may have dietary sensitivities, our beef jerky treats are grain-free and made with all-natural ingredients. They are free from artificial additives, colors, and preservatives, ensuring a wholesome and safe snack option for your furry friend. You can feel confident knowing that you are treating your dog with pure goodness. 4. Sourced with Quality in Mind: At Goodness pet food, we prioritize sourcing ingredients from trusted suppliers who adhere to strict quality standards. Our beef jerky treats are made from premium-quality beef fillet, ensuring a high-quality product for your furry companion. We take pride in offering a treat that you can trust. 5. Perfect for Training or Anytime Snacking: Whether you're engaging in training sessions or simply want to reward your four-legged friend, our beef jerky treats are an excellent choice. Their tender texture and irresistible flavor make them perfect for positive reinforcement and obedience training. They are also suitable for any time snacking, providing a delicious and wholesome treat for your dog. Feeding Instructions: To maintain a balanced diet, we recommend offering our beef jerky treats as a supplemental treat rather than a meal replacement. Portion sizes may vary. We suggested a feeding guide below which is based on the weight of your dog. Treat your dog to the deliciousness of our beef jerky treats and see their tail wag with joy. Order your beef jerky dog treats online today and let your furry companion savor the natural flavors and nutritional benefits that these tasty treats provide!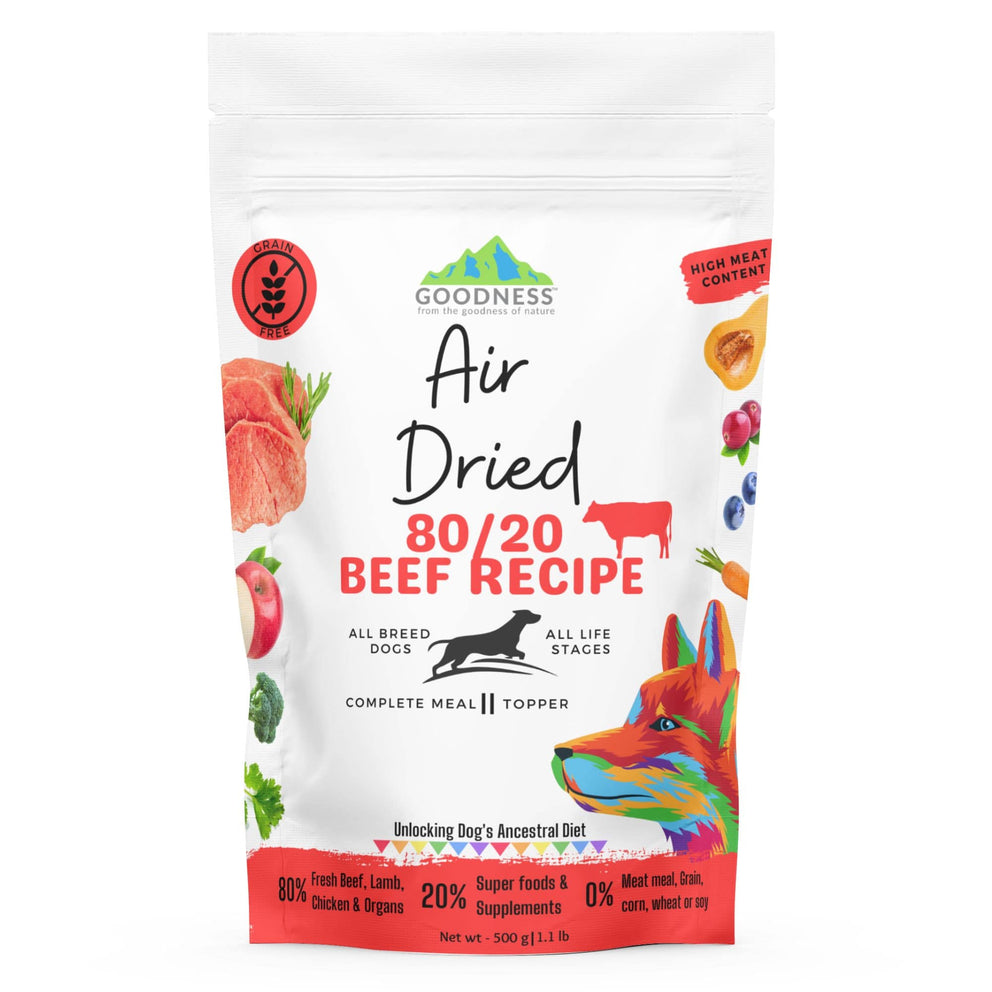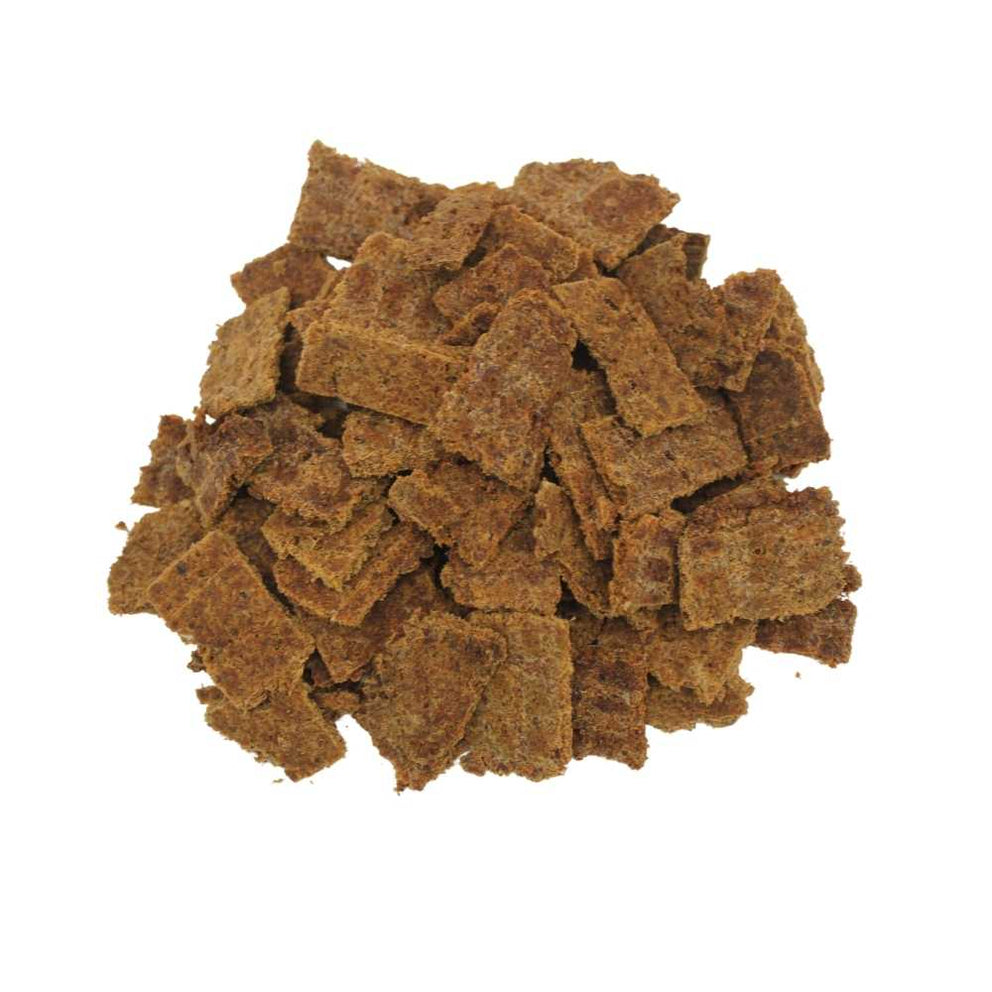 Goodness pet food
80/20 Beef Air Dried Dog Food
from

Rs. 1,594.00
Introducing 80/20 Beef Recipe Air Dried Dog Food: A Nutritious and Flavorful Meal Delivered to Your Doorstep. Looking for high-quality dog food that will provide your furry friend with a protein-packed and delicious meal? Look no further! We are excited to introduce our 80/20 Beef Recipe Air Dried Dog Food, available for purchase online for your convenience. Ingredients:  80% Fresh Beef, Lamb & Chicken ingredients (Boneless Beef, Beef Liver, Beef Heart, Beef Tripe, Beef Lung, Boneless Lamb, Whole Chicken), Vegetable Glycerin, Flaxseed, Coconut Oil, Pumpkin, Carrot, Broccoli, Apple, Spinach, Inulin (prebiotic fibre), Salt, Blueberries, Cranberries, Coriander, Vitamins, Minerals, Mixed tocopherols. Guaranteed Analysis: Protein (min%) 42% Fat (min%) 30% Fibre (max%) 2.5% Moisture (max%) 15% Ash (max%)  7% Energy Kcal per 100 g 452 Kcal per 100 g   Feeding Guide: The below feeding guide is a general guideline. Every dog is unique so adjust your feeding according to their age, activity level and temperament. For puppies, feed twice the amount of food shown here over the course of 2 - 3 servings per day.  Dog Weight Grams per day 0-5 KG 65 G 5-20 KG 65-150 G 20-40 KG 150-315 G 40-50 KG  315-370 G   Feeding Tip:  Feed as a complete meal or as a topper in your favourite dog food or home cooked food.  Here's why our 80/20 Beef Recipe Air Dried Dog Food is the perfect choice for your canine companion: Premium Beef, Beef organs, Lamb and Chicken: We believe that dogs thrive on a diet rich in animal protein. That's why our dog food contains an impressive 80% real beef, beef organs, lamb and chicken carefully sourced from trusted suppliers. Beef is a delicious, nutrient-dense protein that supports your dog's muscle development and overall health. Wholesome and Nutrient-Rich: Our air drying process gently removes moisture from the ingredients while preserving their natural flavors and nutrients. This method helps retain the nutritional integrity of the beef, lamb, chicken and organs, providing your dog with a highly digestible and nutrient-rich meal. Complete and Balanced Diet: Our formulation is thoughtfully crafted to provide a complete and balanced diet for dogs of all life stages. We understand the importance of a well-rounded meal, so our dog food is fortified with essential vitamins, minerals, and antioxidants to support your dog's overall well-being and vitality. Grain-Free and Allergen-Friendly: We understand that some dogs have dietary sensitivities or allergies. That's why our 80/20 Beef Recipe Air Dried Dog Food is grain-free and free from common allergens such as soy, wheat, and corn. It's a great choice for dogs with specific dietary needs or sensitivities. Also, strictly no meat meal.  Irresistible Taste and Texture: We know how important it is for your dog to enjoy their mealtime. Our 80/20 Beef Recipe Air Dried Dog Food is packed with savory flavors and has a satisfying texture that dogs love. It's a meal that will have your furry friend eagerly anticipating every bite. Convenient Online Ordering: We understand that your time is valuable, which is why we've made it easy to order our dog food online. With just a few clicks, you can have our 80/20 Beef Recipe Air Dried Dog Food delivered right to your doorstep, ensuring your dog never runs out of their favorite meal. At Goodness, we are dedicated to providing dogs with the highest quality nutrition. Our 80/20 Beef Recipe Air Dried Dog Food is the result of our commitment to sourcing premium ingredients and creating a product that meets the nutritional needs and taste preferences of dogs. Order our 80/20 Beef Recipe Air Dried Dog Food online today and treat your four-legged friend to a meal they'll truly enjoy. Your dog's health and happiness are our top priorities, and we are confident that our premium dog food will exceed your expectations. Give your dog the nutrition they deserve with a delicious and nutritious meal delivered straight to your door.