80/20 Beef Air Dried Dog Food
Size
500 grams (Makes 1.5 kg of dog food)
2 Kg (Makes 6 kg of dog food)
4 Kg (Makes 12 kg of dog food)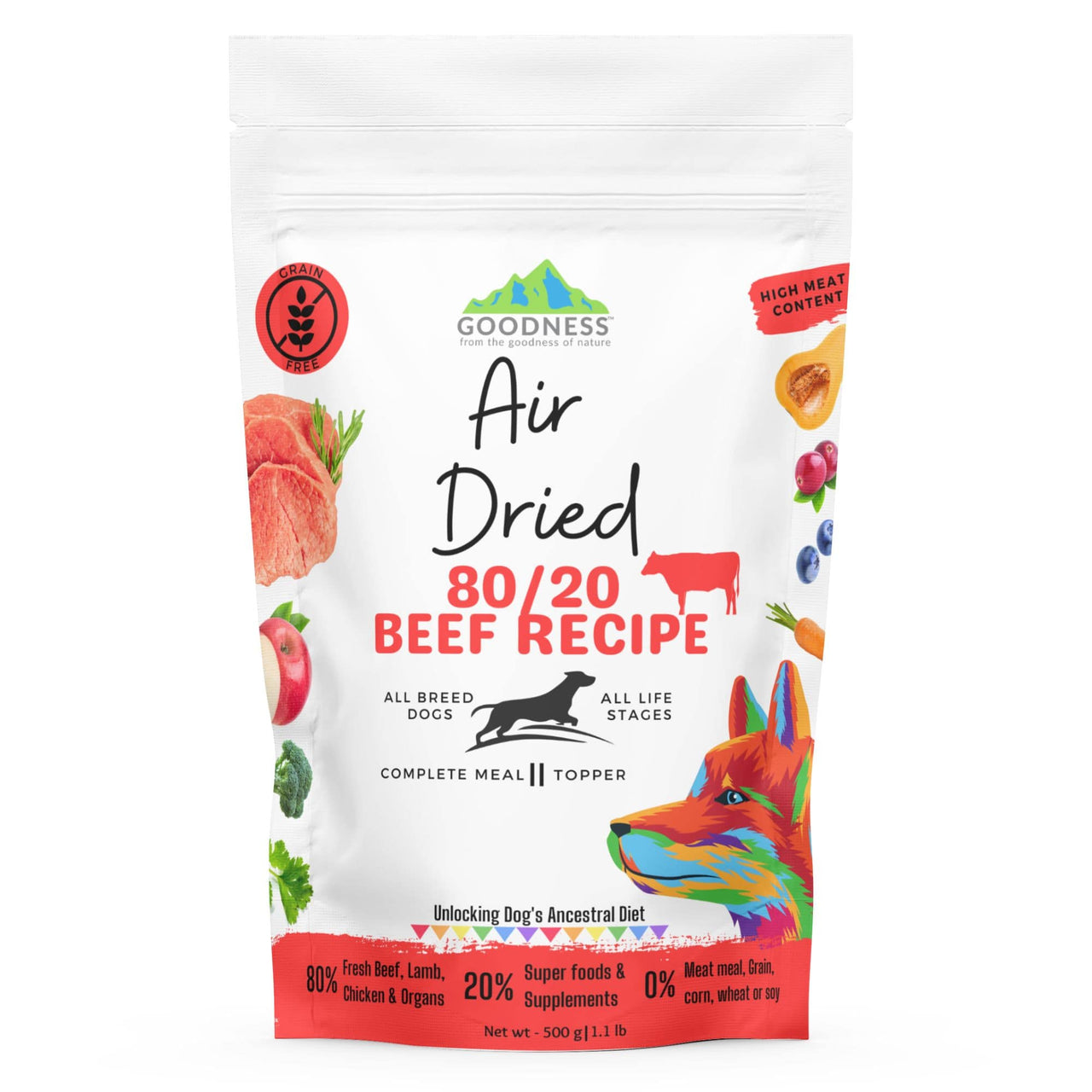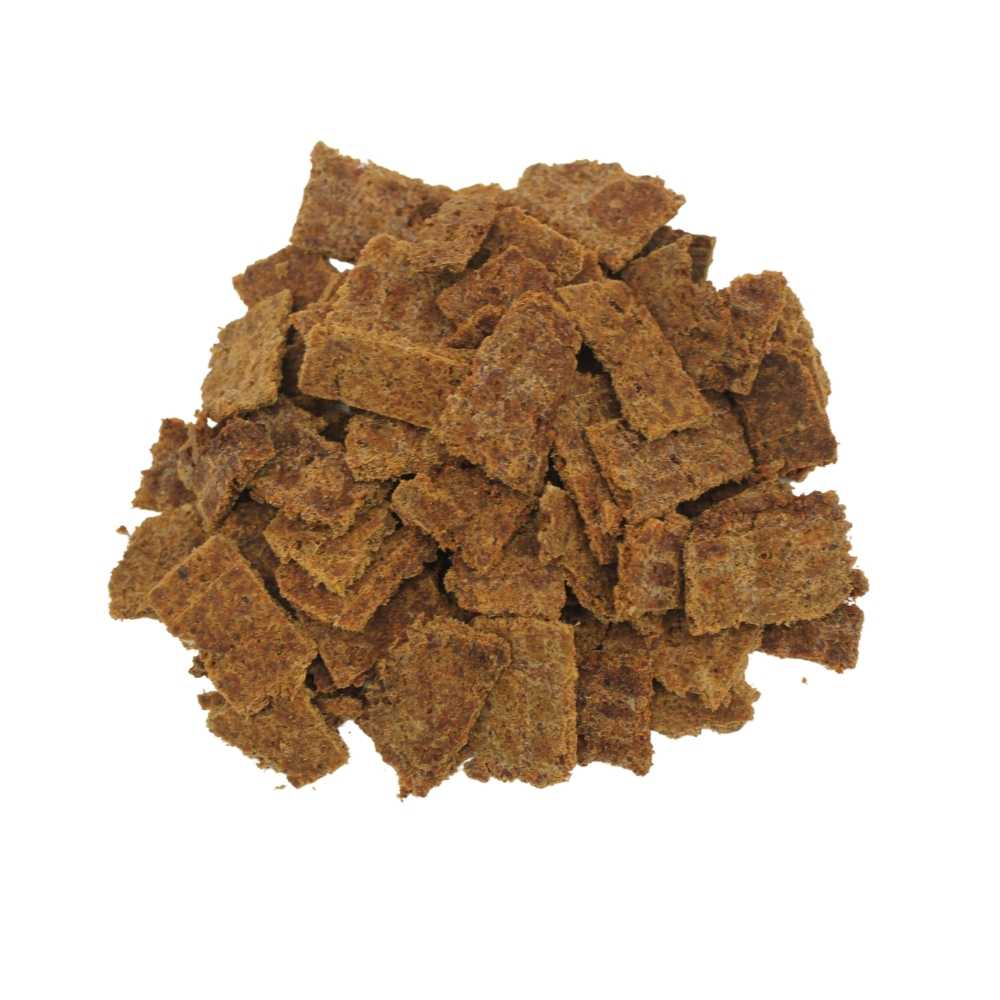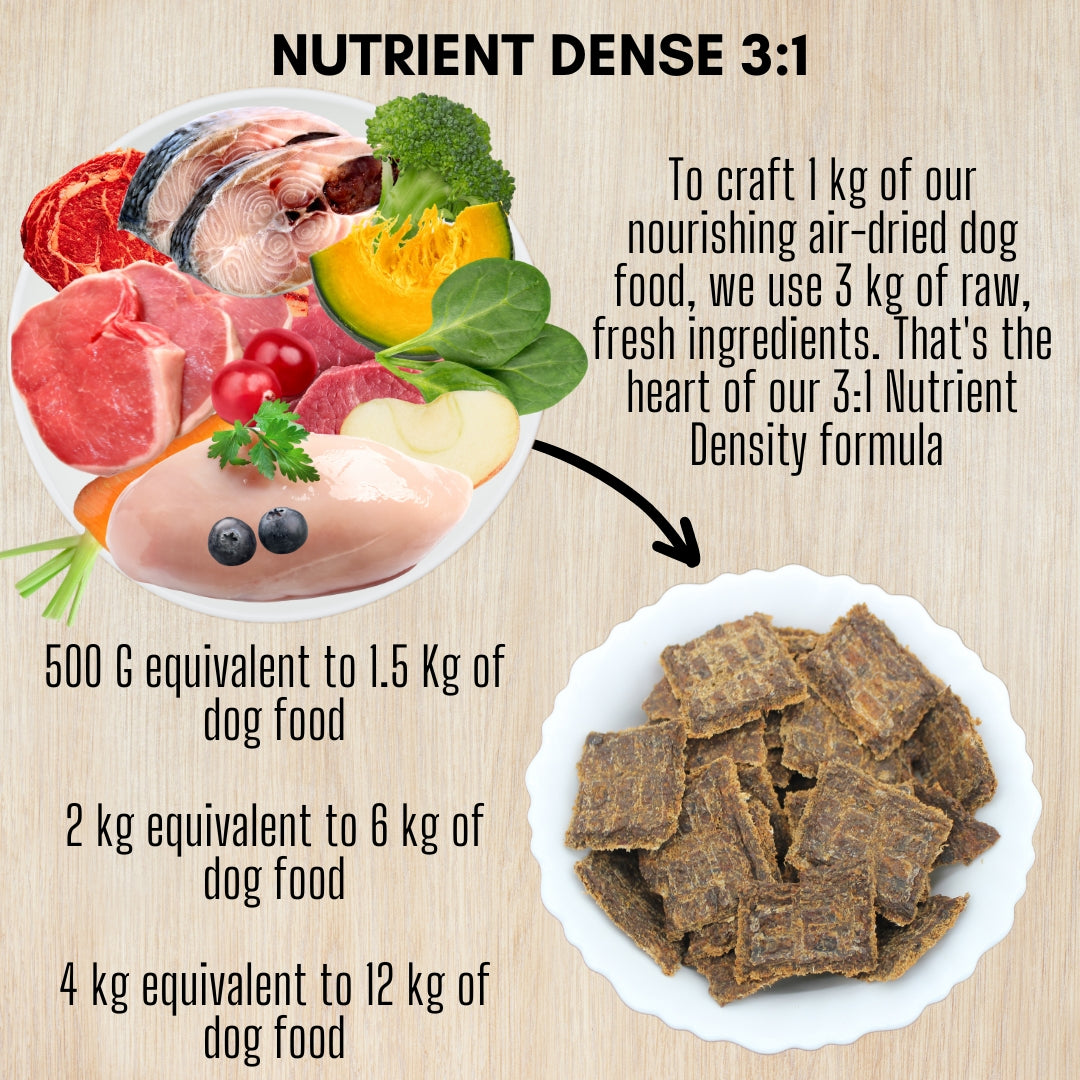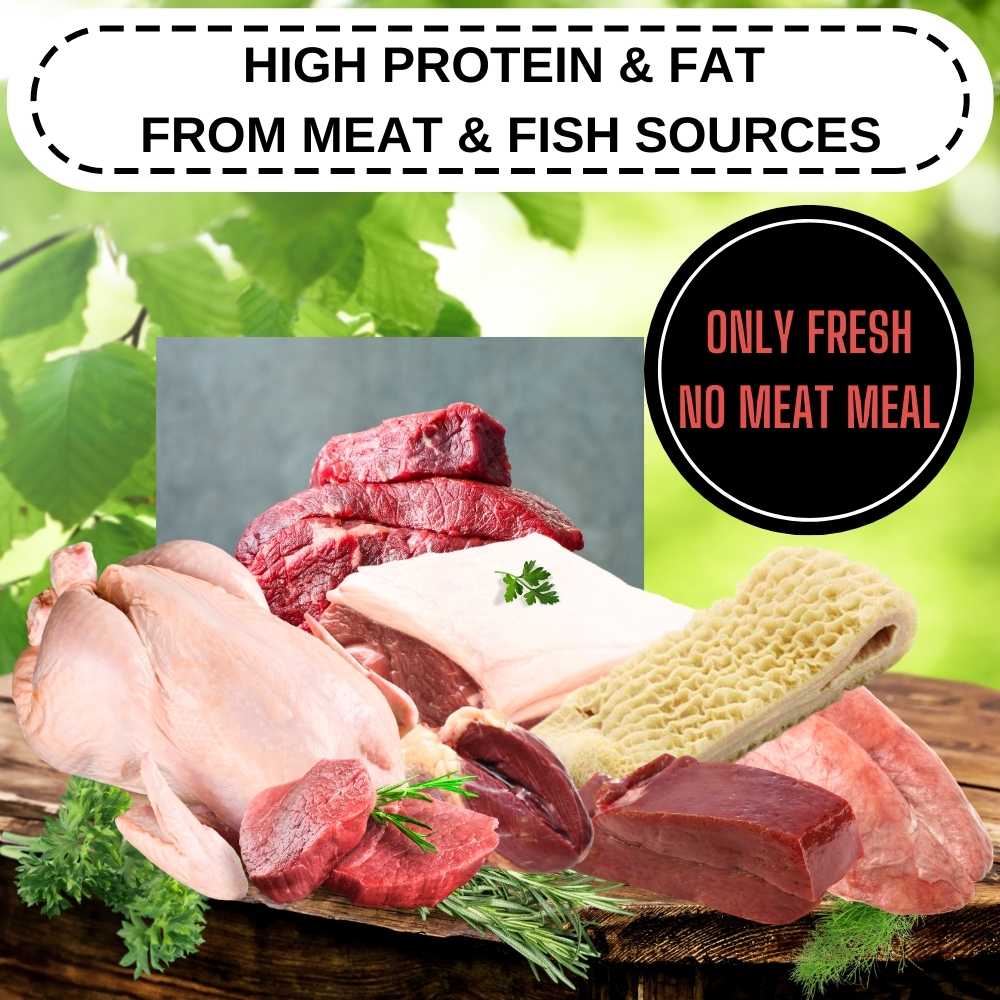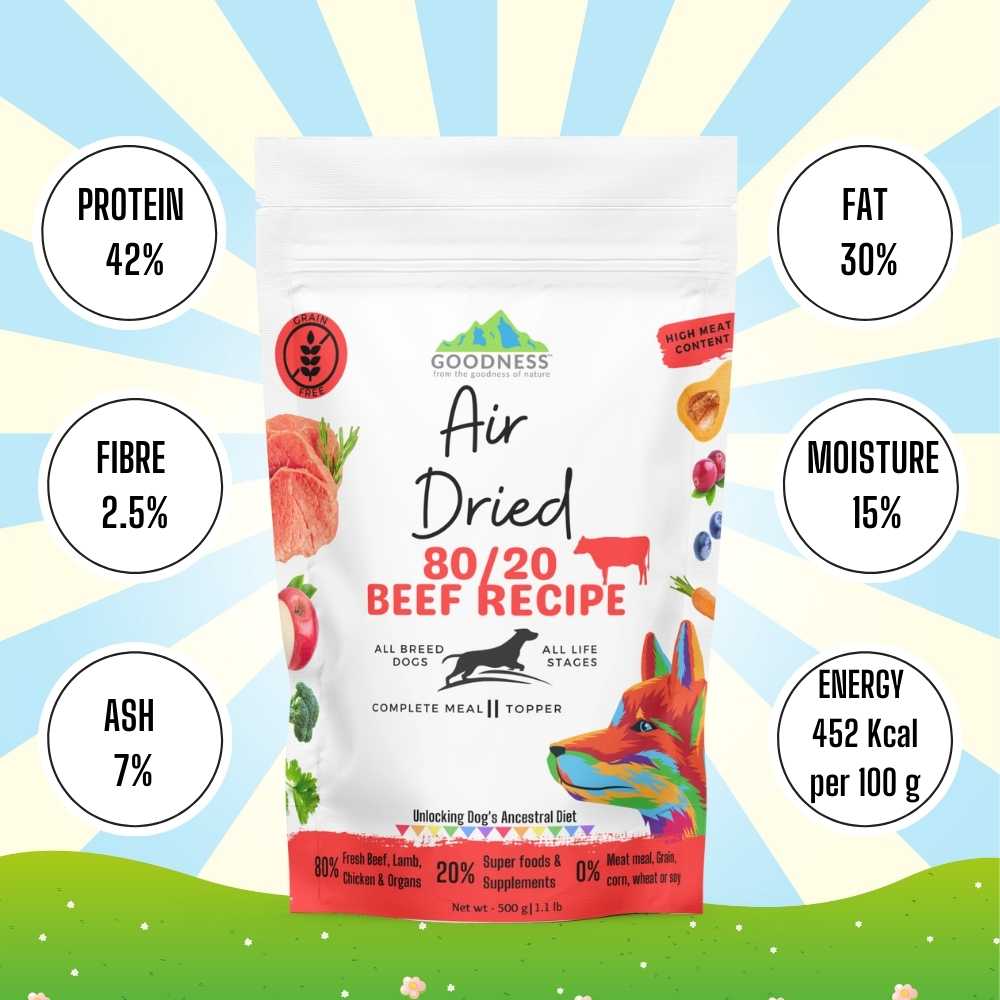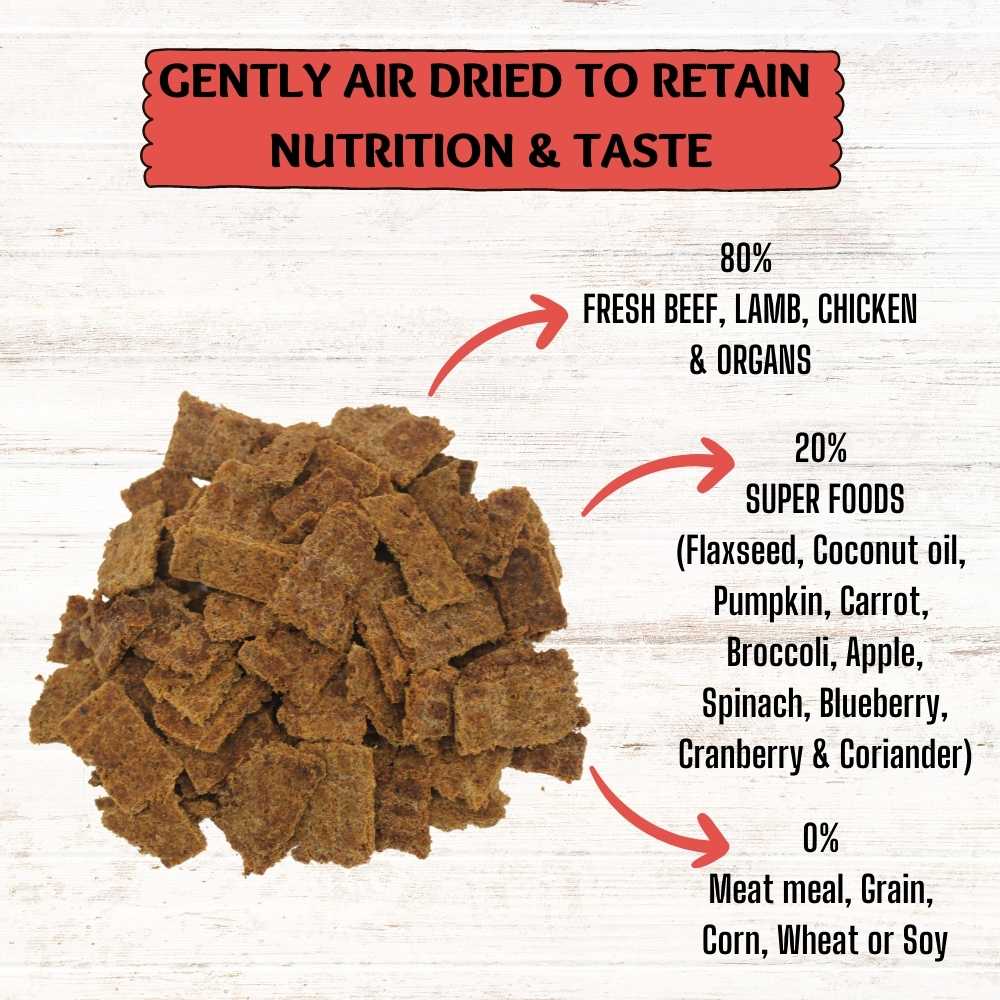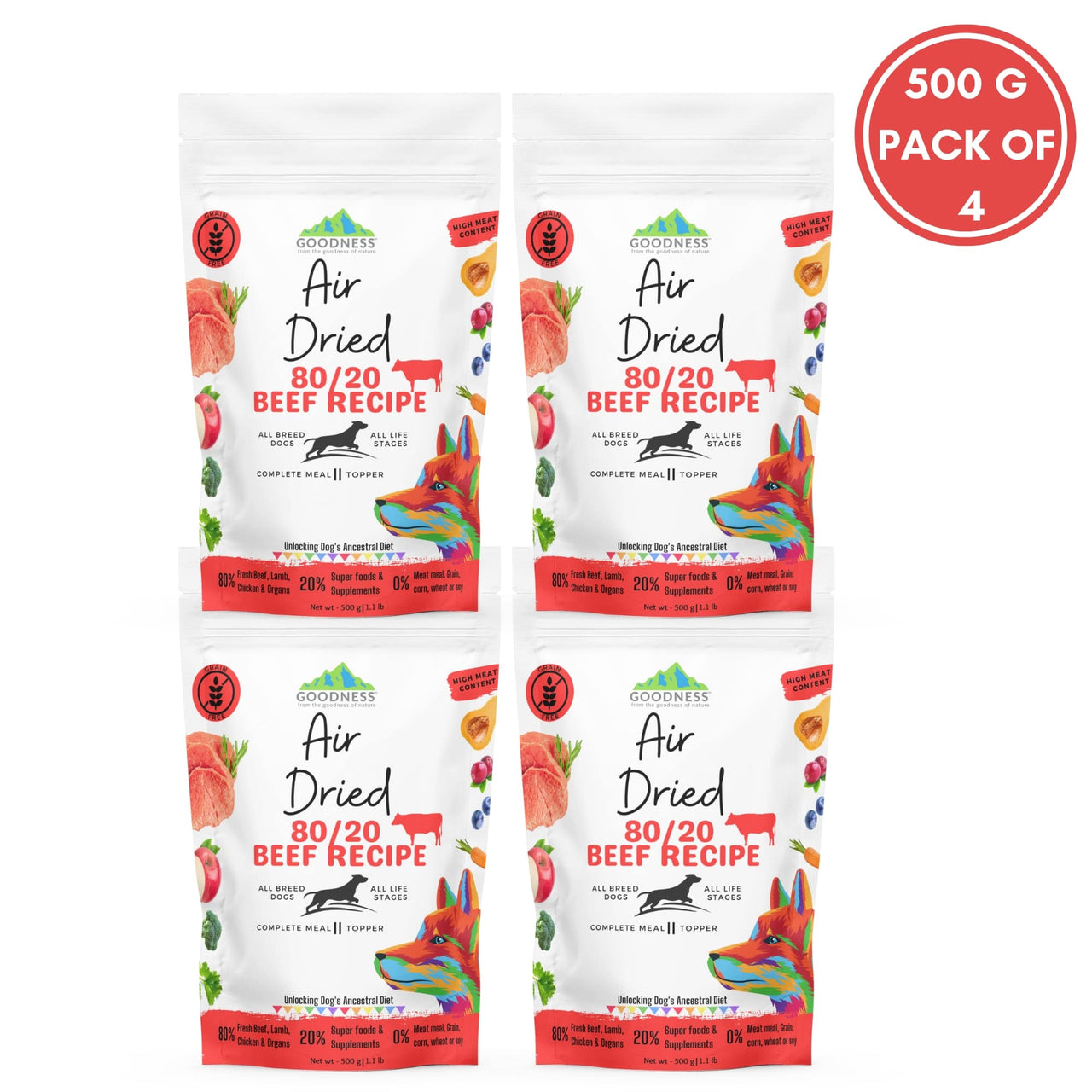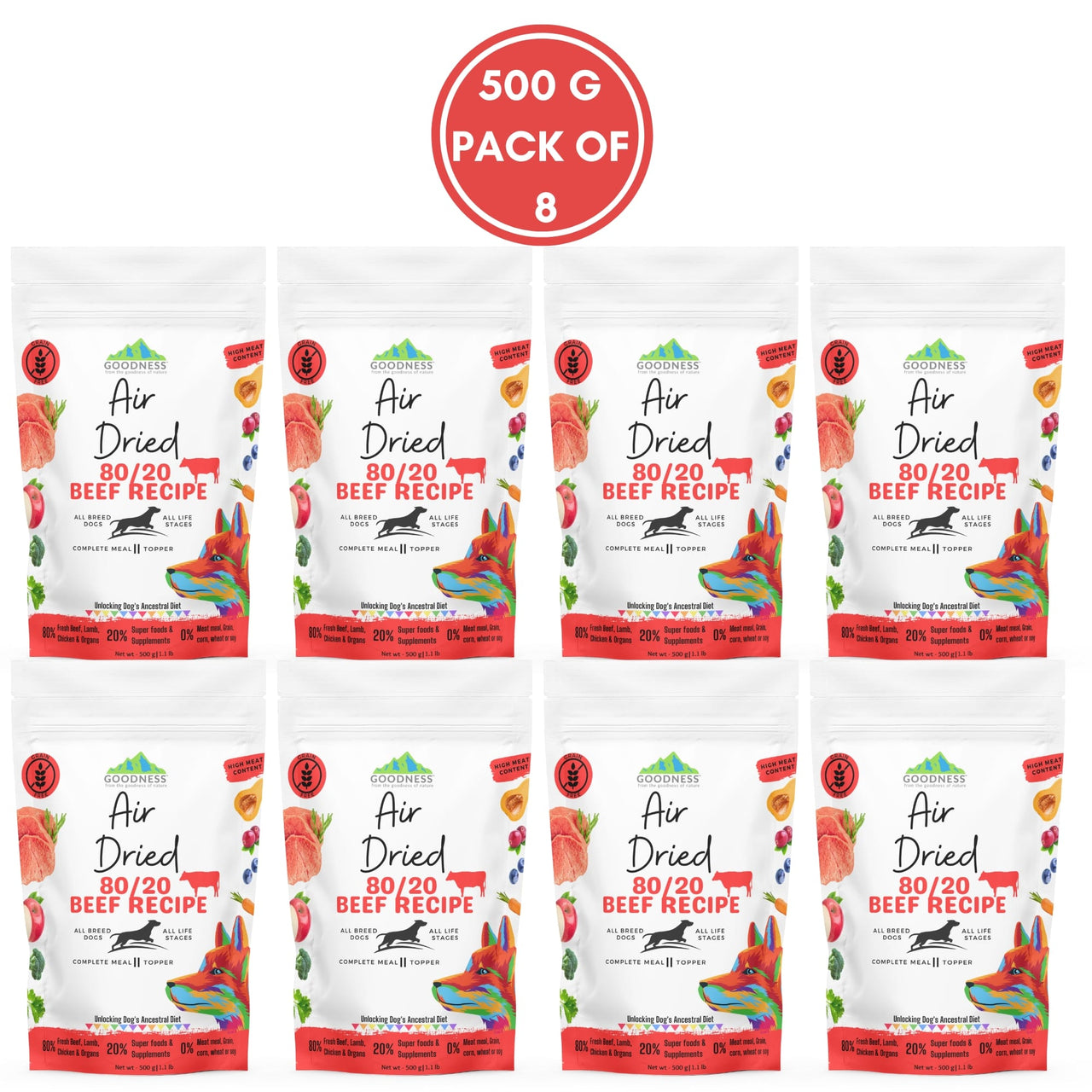 Description
Shipping & Return Policy
Introducing 80/20 Beef Recipe Air Dried Dog Food: A Nutritious and Flavorful Meal Delivered to Your Doorstep.
Looking for high-quality dog food that will provide your furry friend with a protein-packed and delicious meal? Look no further! We are excited to introduce our 80/20 Beef Recipe Air Dried Dog Food, available for purchase online for your convenience.
Ingredients: 

80% Fresh Beef, Lamb & Chicken ingredients (Boneless Beef, Beef Liver, Beef Heart, Beef Tripe, Beef Lung, Boneless Lamb, Whole Chicken), Vegetable Glycerin, Flaxseed, Coconut Oil, Pumpkin, Carrot, Broccoli, Apple, Spinach, Inulin (prebiotic fibre), Salt, Blueberries, Cranberries, Coriander, Vitamins, Minerals, Mixed tocopherols.
Guaranteed Analysis:
| | |
| --- | --- |
| Protein (min%) | 42% |
| Fat (min%) | 30% |
| Fibre (max%) | 2.5% |
| Moisture (max%) | 15% |
| Ash (max%) |  7% |
| Energy Kcal per 100 g | 452 Kcal per 100 g |
Feeding Guide:
The below feeding guide is a general guideline. Every dog is unique so adjust your feeding according to their age, activity level and temperament. For puppies, feed twice the amount of food shown here over the course of 2 - 3 servings per day. 
| | |
| --- | --- |
| Dog Weight | Grams per day |
| 0-5 KG | 65 G |
| 5-20 KG | 65-150 G |
| 20-40 KG | 150-315 G |
| 40-50 KG |  315-370 G |
Feeding Tip: 
Feed as a complete meal or as a topper in your favourite dog food or home cooked food. 
Here's why our 80/20 Beef Recipe Air Dried Dog Food is the perfect choice for your canine companion:
Premium Beef, Beef organs, Lamb and Chicken:
We believe that dogs thrive on a diet rich in animal protein. That's why our dog food contains an impressive 80% real beef, beef organs, lamb and chicken carefully sourced from trusted suppliers. Beef is a delicious, nutrient-dense protein that supports your dog's muscle development and overall health.
Wholesome and Nutrient-Rich:
Our air drying process gently removes moisture from the ingredients while preserving their natural flavors and nutrients. This method helps retain the nutritional integrity of the beef, lamb, chicken and organs, providing your dog with a highly digestible and nutrient-rich meal.
Complete and Balanced Diet:
Our formulation is thoughtfully crafted to provide a complete and balanced diet for dogs of all life stages. We understand the importance of a well-rounded meal, so our dog food is fortified with essential vitamins, minerals, and antioxidants to support your dog's overall well-being and vitality.
Grain-Free and Allergen-Friendly:
We understand that some dogs have dietary sensitivities or allergies. That's why our 80/20 Beef Recipe Air Dried Dog Food is grain-free and free from common allergens such as soy, wheat, and corn. It's a great choice for dogs with specific dietary needs or sensitivities. Also, strictly no meat meal. 
Irresistible Taste and Texture:
We know how important it is for your dog to enjoy their mealtime. Our 80/20 Beef Recipe Air Dried Dog Food is packed with savory flavors and has a satisfying texture that dogs love. It's a meal that will have your furry friend eagerly anticipating every bite.
Convenient Online Ordering:
We understand that your time is valuable, which is why we've made it easy to order our dog food online. With just a few clicks, you can have our 80/20 Beef Recipe Air Dried Dog Food delivered right to your doorstep, ensuring your dog never runs out of their favorite meal.
At Goodness, we are dedicated to providing dogs with the highest quality nutrition. Our 80/20 Beef Recipe Air Dried Dog Food is the result of our commitment to sourcing premium ingredients and creating a product that meets the nutritional needs and taste preferences of dogs.
Order our 80/20 Beef Recipe Air Dried Dog Food online today and treat your four-legged friend to a meal they'll truly enjoy. Your dog's health and happiness are our top priorities, and we are confident that our premium dog food will exceed your expectations. Give your dog the nutrition they deserve with a delicious and nutritious meal delivered straight to your door.
We deliver to almost all parts of India. All orders shall be processed for dispatch within 24 hours and delivered to you as soon as possible Any order placed on late weekend i.e. on Saturday post 1:00 pm will be automatically process for dispatch on Monday. We have free shipping all over India on all orders. Shipping Details should be correct and any delay in delivery due to wrong address details will be sole responsibility of customer only.
If you are not present when our courier attempts to deliver your order, the courier will try to call or message you. Two additional attempts will be made on consecutive days, after which your package will be returned to our fulfillment center and your account will be refunded for the order amount.
We provide cash on delivery option. However, you bear the responsibility of your presence on the arrival of your shipments in order to avoid unnecessary cancellations.
International shipping We only ship within India but accept most international credit cards.
Delivery timelines: Most orders arrive within 2 – 9 business days. For remote areas, orders will be delivered within 7 – 14 business days.
Chennai – within 2 days Coimbatore – within 3 days Bangalore – within 3 days Goa – within 5 days Pune – within 5 days Mumbai – within 5 days New Delhi – 5 to 7 days Noida – 5 to 7 days Gurgaon – 5 to 7 days Hyderabad & Telangana – within 3 days Kolkata – 5 to 7 days All orders will be shipped from Chennai (Tamil Nadu).
We have added a plugin on all product pages for estimated delivery timelines for all cities & towns in India. This gives you a rough idea about delivery timeline based on your IP address and current location.
Once you place an order with us, shipment tracking links will be sent to your whatsapp number after your order is dispatched.
Returns Policy For Damaged Goods On delivery please check for any damage to your package.
If you spot any damage to the package, please contact us immediately and provide the order number along with details of the problem. We will arrange to replace or refund your order, which ever your preference, as long as you notify Goodness Pet Foods of your decision to process a return and refund within 14 days period.
For Un-Damaged Goods If your order is delivered correctly and you change your mind or simply want to cancel your order please notify Goodness Pet Foods within 7 days. Once we have acknowledged your request to return the goods for a refund, you have a further 7 days in which to return the goods to Goodness Pet Food's registered address (see contact information). You are responsible for the cost and risk of loss or damage when returning the goods, so you should take out enough postal insurance to cover their value.
If you change your mind after you have placed an order but before delivery, we will incurred a charge for the returned goods, this cost will be deducted from your refunded amount.
Any goods returned should be in saleable condition, please note we can only accept unopened bags.
All returned goods must be received by Goodness Pet Foods before any refund can be issued. Your refund will be processed as soon as possible once in receipt of those goods, but please allow up to 30 days.